At Crown Oil Environmental we make tank installations simple, fast and safe. We are OFTEC members and EEMUA 159 accredited ensuring that our tanks are installed to the highest recognized standards. Our engineers observe all relevant health and safety guidelines and with over 75 years of experience, there is no one better suited to look after your tank installation.
For anyone that is unsure of the tank installation process, we've put together our most commonly asked questions so that you know what to expect from a tank installation with Crown Oil Environmental.
If you need assistance, do not hesitate to speak to a member of our friendly team by calling 0330 123 3399.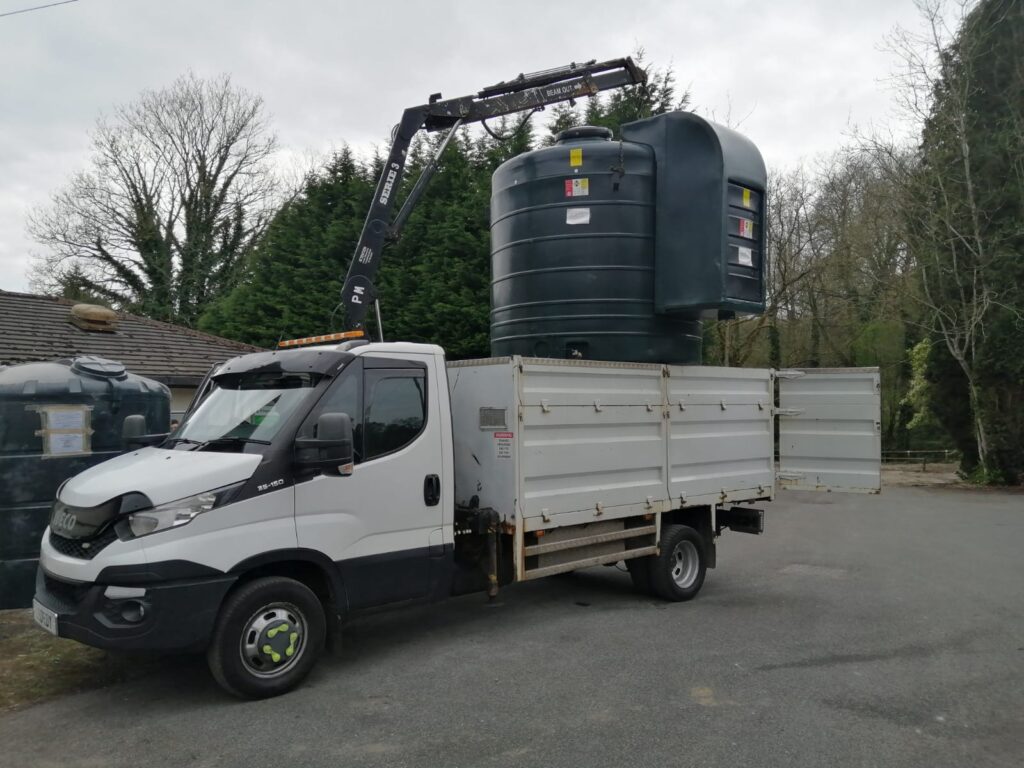 What's involved in commercial tank installations?

Tank inspection as part of a free site survey
Pump out existing oil
Decommission and recycle redundant tank, including gas-free certificate and waste transfer notice
Install new, fully compliant oil storage tank and base
Connect new tank to the existing oil feed pipe
Transfer oil into new fuel tank
Why would a business need a tank installation?

A few examples of why a business might need to use our tank installation service are if you're expanding your business' fuel capacity, replacing a damaged or old fuel tank, or moving your business to a new site.
What types of fuel tanks are available from Crown Oil Environmental?

At Crown Oil Environmental we have a range of fuel storage tanks available from 500 litre oil tanks to large scale 200,000 litre tanks, and supply both above-ground and underground tanks and bowsers from leading brands, including:

Deso domestic tanks
Deso fuel dispensers
Harlequin fuel stations
Harlequin fuel dispensers
Harlequin domestic tanks
CrownCube alternative fuel stations
Large custom-sized and designed tanks on request
And more
How do I know which fuel tank is best for my business?

Not sure which fuel tank is right for you? Give us a call on 0330 123 3399 and one of our experts will be able to discuss your fuel needs and help you make the right decision.
Can you install domestic fuel tanks?

Yes! We don't just work with businesses, we also install new fuel tanks for our domestic customers that are located within 50 miles of our main headquarters in Bury, Greater Manchester. Plus our domestic tank installations can be carried out within 7 days. If you'd like to find out more you can visit our domestic services page.
How can I tell if I need a new fuel tank?

Some of the signs that indicate that you may need a new fuel tank include:

Do you notice corrosion, rust, cracks on the tank body or bund?
Does the tank/pipework have any signs of leaking or damage to the supporting structures?
Do your pumps have any problems or make an unusual noise?
Is your fuel tank more than 10 years old?
Has your fuel tank been inspected for damage by an OFTEC registered member in recent years?

You can view our full tank maintenance checklist to look for other signs of damage to your fuel tanks and pipework.

If you notice any of the above signs, speak to one of our fuel experts by calling 0330 123 3399 and we can discuss your options.
Where should my new fuel tank be installed?

There are a number of regulations that you must follow when locating your stored fuel that will differ depending on the size of your business. Here are some basic principles that you should follow when positioning your fuel tank safely:

Away from water sources and fire hazards
Where there's little risk of damage by impact or the weather
In an area that cannot be easily flooded
At least 10 meters clear of inland or coastal waters
Not at roof height or above
On a pristine surface with lots of space if it's close to where deliveries are made and oil is dispensed

These guidelines will vary depending on the size of your fuel tanks. Our experts will be happy to discuss your fuel storage needs and recommend the most convenient and the safest place for your tank. Call 0330 123 3399 to find out more.
How long will a new fuel tank last?

All our fuel tanks come with a 10-year guarantee; however, if your fuel tank is regularly inspected (at least once a year) and well maintained, it can last for 15-20 years. You can also prolong the life of your storage tank by taking advantage of our fuel services.
Where is your tank installation service available?

Our tank installations are available to all industries and fuel users across the UK. Our engineers guarantee a safe and secure tank installation service, as well as fuel support and advice on any fuel related matters.
What are the regulations surrounding stored fuel on site?

If you opt for a storage container over 200 litres at your business, you must adhere to the Control of Pollution (Oil Storage) (England) Regulations 2001. At Crown Oil Environmental we're an OFTEC member and are EEMUA 159 accredited, ensuring we adhere to all the necessary standards when installing your fuel tanks. Health and safety and environmental protection are at the heart of everything we do to ensure that your new fuel tank is installed appropriately. If you'd like to find out more, please visit our technical advice page.

There is no one set of rules for your business as the regulations change based on the size of your fuel tank and the industry you operate in. Call 0330 123 3399 and one of our fuel experts will explain the best possible solution for your individual needs.
What happens to my old/existing storage tank?

If your current fuel tank is no longer fit for purpose, we will clean the tank, decommission it and dispose of it safely and within all relevant regulations
Can you transfer my fuel into the new fuel tank?

Yes, when replacing your existing fuel tank, we will safely uplift the fuel and transfer it into our holding tankers. Once installed, we will then add your fuel to the new tank.
What kind of businesses have you worked with?

There's no job too big for us to handle; we work with businesses across a range of sectors and can be your one-stop shop to secure your fuel supply and storage tanks. You can find examples of our work on our customer case studies page.
Do you offer any aftercare once the fuel tank is installed?

Yes, not only do all our fuel tanks come with a 10-year guarantee, we also offer fixed-term maintenance contracts to look after your storage tanks and fuel supply. Some of our popular environmental services that will benefit your new fuel tank include:

If you'd like to learn more about our environmental services you can call 0330 123 3399 and one of our experts will discuss our services that can benefit your business.
Do your fuel tanks come with telemetry installed?

You can request that we install a telemetry system with your new fuel tank, however our telemetry sensors are not included as standard.

If you'd like your tank to be installed with a telemetry monitoring system or you'd like to find out more, you can give us a call on 0330 123 3399 or visit our tank telemetry FAQ page.
If you need a fast tank installation, get in touch with an experienced member of our team by calling 0330 123 3399
Fuel Specialists Trusted for over 70 years
Our products and services come fully guaranteed and our staff are trained in each of their respective roles. In fact, our team is the most experienced in the industry.
We are passionate about providing excellent service at all times and our commitment to customer care makes us the perfect choice for your environmental service requirements.

Stay compliant

Save money

Avoid downtime

Reduce risk

Uphold reputation
For help and advice relating to fuel contamination and tank treatment
give our friendly team a call today on 0330 123 3399
Or