Secure the future of your fuel supply with our non-disruptive, cost-effective polishing service
If you're experiencing issues with your fuels, Crown Oil Environmental's fuel cleaning service can breathe new life into your contaminated fuel supply, saving you the waste, cost and hassle of an emergency fuel replacement or even worse, unplanned downtime.
Whether you need fuel polishing as part of a regular proactive maintenance programme or due to a wider issue, we're here to help you with whatever issues you may encounter with your stored fuels and oils.
If you'd like to learn more about our fuel polishing services, call our fuel experts today on 0330 123 3399 to find out more.
Fuel polishing service overview
Fuel polishing, or fuel cleaning, is essentially a key service for diesel-powered critical applications that eliminates a serious point of failure: fuel contamination. It's completely non-disruptive and can enable continued use of your fuel whilst we polish it, depending on the severity of the contamination. Read on for more information on how fuel polishing can benefit your business.
Long-term protection of your stored diesel fuel
Our intensive but non-disruptive service can restore your fuel back to optimum quality, making sure you can rely on it when you need it most.
Using state-of-the-art units, our fuel polishing kit can polish up to 25,000 litres of fuel per hour to an industry-best filtration level of micron 1 absolute, restoring your diesel to optimal ISO 4406 standards of cleanliness.
The importance of a fuel polishing system
Imagine the horror of your backup generators failing at a critical moment, or catastrophic equipment failure due to contaminated fuel.
When you rely on uninterrupted backup power, it's essential that the stored fuel is kept clean to prevent unplanned power failure. Over time, deposits of sludge, sediment and water can build up in stored fuel. If left untreated, the consequences could be catastrophic, ranging from losses in millions of pounds for a data centre to the loss of refrigerated food in a supermarket or even worse, the loss of lives in a hospital.
Fuel that is stored for long periods of time can begin to degrade in quality and become contaminated, which will have a negative impact on a diesel generator or equipment. In worst-case scenarios, this can cause system failures which could be catastrophic, particularly in emergency backup generators. If a fuel test shows that you have contaminated fuel, you can have it cleaned or "polished" to ensure if conforms to EN590 and ISO4406 levels once complete.
As well as avoiding critical failure, fuel polishing improves generator and equipment efficiency as cleaner fuels reduce the amount required for combustion. This leads to lower overall fuel costs and reduced risk of unplanned downtime from breakdowns.
Benefits of fuel polishing
It's a cost-effective, efficient and safe fuel remediation service
Eliminates the need for more expensive procedures such as replacing your fuel
Improves fuel efficiency and equipment performance
Prevents the build-up of sludge and water from entering the engine or generator
Fast, effective and completely non-disruptive
Secures the future of your fuel supply
Increased reliability, which reduces the risk of equipment breakdown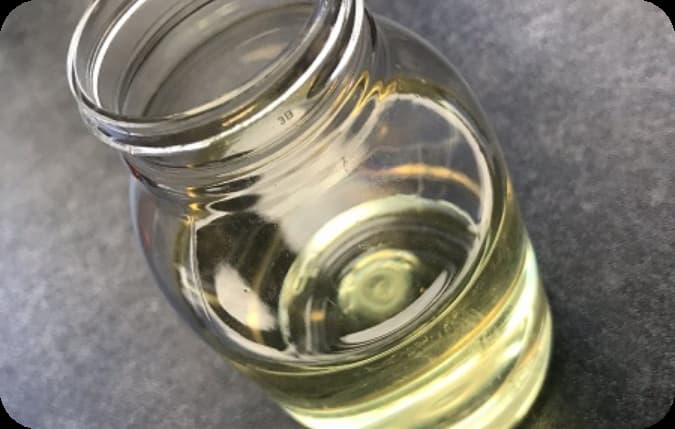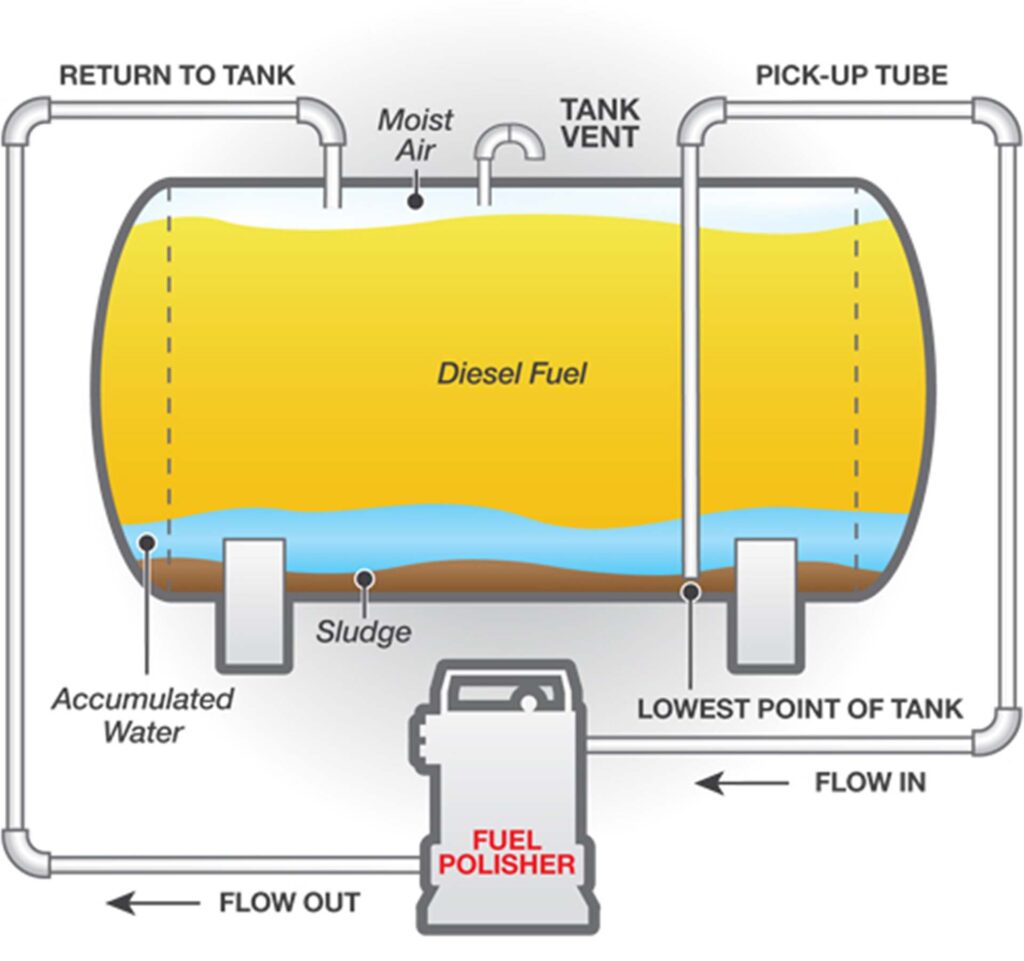 Fuel tank polishing process
To begin, fuel polishing units are attached to the tank in a parallel circuit which means that you can still use your fuel while it's being polished. Fuel is filtered through increasingly finer filters to remove all harmful contaminants until it's clean and reaches a filtration level of 1 micron absolute, removing water to 100ppm – an industry best.
Next, the polishing unit uses advanced depolymerisation technology to break down harmful particulates, polishing your fuel to perfection and ensuring it conforms to EN590 and ISO4406 levels.
If required, the tank is then isolated from your system and cleaned, removing any debris which would re-contaminate your fuel. The fuel is tested before it is returned, to ensure it meets industry standards.
---
Fuel polishing FAQs
How much does fuel polishing cost

Due to its complexity and the highly specialised equipment involved, many people assume that fuel polishing will be expensive. However, it's actually one of the most cost-effective treatments available when all factors are considered, such as:

Lack of disruption to services
No need to purchase a new fuel supply
Avoids the waste and cost of disposing of a contaminated supply

Most credible providers will typically charge you a fixed fee for smaller jobs, and normally a pence per litre cost for larger volumes of fuel.
How does Crown Oil Environmental's fuel polishing process work?

Polishing units are attached to your fuel tank in a parallel circuit to return your clean fuel as good as new
We pump out your dirty fuel and filter it using a series of processes to remove all harmful contaminants
If required, we clean the tank and remove any debris
Before it is returned the fuel is tested to ensure it meets industry standards
We pump the fuel back into your tank
How often should fuel be polished?

Generally, fuel should be tested at least once a year. The results of this will determine whether your fuel needs polishing or not.

A regular proactive maintenance programme will ensure your costly assets are monitored by fuel specialists and help ensure your equipment and generators are running on quality fuel.

Choose Crown Oil Environmental as your partner and have the option of including the cost of fuel polishing as part of your maintenance contract. We'll regularly check the quality of your fuel and provide a detailed report to recommend and explain your best course of action.
---
Ready to learn more about our fuel polishing services? Call our expert team today on 0330 123 3399 to find out how we can help you with polishing and cleaning fuels and oils.
---
Fuel Specialists Trusted for Over 75 Years
We guarantee all of our products and services. Our expert teams are the most experienced in the industry, and each individual is an expert in every aspect of their role.
We are passionate about providing excellent service at all times and our commitment to customer care makes us the perfect choice for your environmental service requirements.

Stay compliant

Save money

Avoid downtime

Reduce risk

Uphold reputation
For help and advice relating to fuel contamination and tank treatment
give our expert team a call today on 0330 123 3399
Or