Fuel Maintenance Experts
With over 70 years' experience in the fuel industry, there's no one more qualified to help protect your workplace. Our engineers can identify and minimise environmental risks, their impact and any unplanned costs in order to reduce downtime and any service delays.
With so many varieties and uses for fuel, it can be a daunting task to get the correct information. That's why here at Crown Oil Environmental, we have technical advisors on hand 24/7 should you require specialist help with anything.
We have the expertise and experience to safely handle all scenarios and provide a rapid, efficient service across all industry sectors:
OFTEC members
EEMUA 159 accredited
Confined spaces and working at heights qualifications
Complete turnkey solutions for cost efficacy and ease
Cutting edge equipment and solutions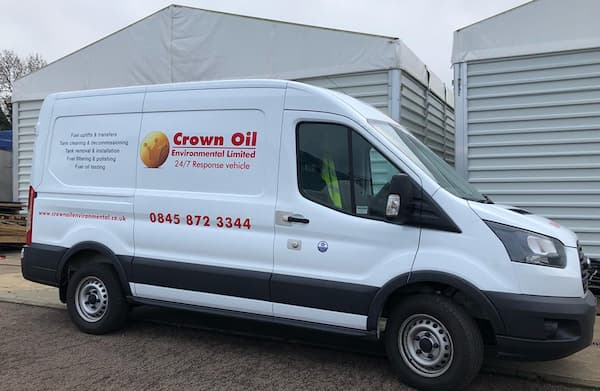 What to do with contaminated fuel
If you believe your fuel has been contaminated and would like to seek technical advice for the next steps you need to take, please call us urgently on 0330 123 3399.
Help with oil testing & analysis
Have you received results from oil tests and unsure what to do next? Our technical advice team can discuss the results and decide what the best course of action is moving forward. We can also explain the benefits of testing and analysis for fuels.
Fuel polishing help
Unsure whether fuel polishing is the right service for you? Our technical advisors can support you and provide advice on any fuel cleaning queries, finding you the best most cost-effective solution available.
Fuel transfer advice
Would you like to speak with a fuel transfer specialist? We can provide technical advice for your fuel transfers and uplifts and offer advice for best practices, solutions and costs.
Advice on tank installations
Are you thinking about installing a new tank and not quite sure who to speak to? Call our team today for up to the minute advice on tank installations. Installing the wrong tank can be a costly mistake so making sure you're getting the correct information from the specialists is key.
Tank cleaning information
Tank cleaning is an important job which is often overlooked but in reality, needs performing on a regular basis. From looking after your fuel to keeping the environment safe from leaks, Crown Oil Environmental can help you make the right choice regarding fuel tank hygiene.
Fuel tank testing
Want to make sure that your tank is in full working order? Our fuel tank testing service will give your tank a thorough inspection to make sure it's safe and secure, with no risk of leaking or contamination.
Advice on tank decommissioning
Are you thinking of removing or decommissioning your fuel tank but don't know where to get the best advice? Crown Oil Environmental's technical advisors can guide you in the right direction with a fuel tank decommission project.
Fuel Specialists Trusted for over 70 years
Our products and services come fully guaranteed and our staff are trained in each of their respective roles. In fact, our team is the most experienced in the industry.
We are passionate about providing excellent service at all times and our commitment to customer care makes us the perfect choice for your environmental service requirements.

Stay compliant

Save money

Avoid downtime

Reduce risk

Uphold reputation
For help and advice relating to fuel contamination and tank treatment
give our friendly team a call today on 0330 123 3399
Or