Keeping the Marine Industry Afloat
Here at Crown Oil Environmental, we offer a wide range of marine services, from marine fuel uplifts and ship waste oil collection and disposal, to confined space cleaning and dockside quick response services.
Our range of services include:
Marine fuel uplift
Bilge cleaning
Ballast tanks & marine tank cleaning
Dockside quick response and support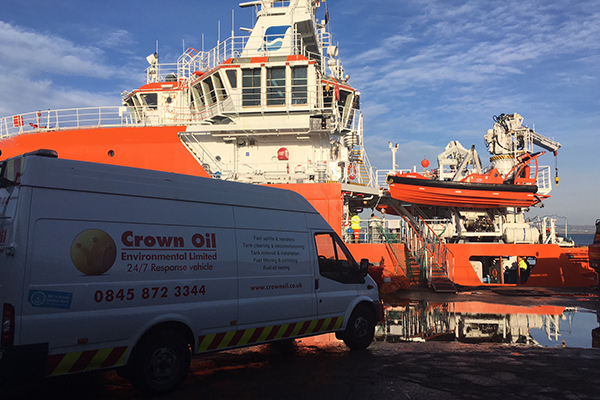 If you only have a limited window of time at the dock, we can clean your ballast tanks and deal with your marine fuel contamination as quickly as possible. We can provide our ship fuel services at any port in the UK and can be there within 24 hours of receiving your request.
Fuel uplift from marine fuels storage tanks
Crown Oil Environmental Ltd can offer a rapid response to uplift fuel from ships in dock. We have a fleet of tankers and engineers to facilitate safe and efficient uplifts in a time-limited situation. Since we're also a fuel supplier, we can arrange a new fuel delivery once we have uplifted any potentially contaminated fuel.
Marine fuel contamination services
If your vessel has recently been through rough seas, there is a good chance that water will have made its way through the vent pipes. If this has happened, it can cause your fuel supply to become contaminated and develop fuel bugs.
Depending on how much time your vessel will spend in the dock, we can clean your fuel until it is free of all water contamination. If your time is limited, we can remove the contaminated fuel and replace it with a clean supply.
All this means, that for your ship waste oil collection, disposal and replacement, Crown Oil Environmental will handle it all for you.
Ballast tanks and marine tank cleaning
We are specialists when it comes to the cleaning and degassing of industrial & marine tanks. We can deal with varying sizes of storage tanks which contain both hazardous or non-hazardous products. We have the knowledge and experience to carry out the projects in a cost-effective and safe manner.
At Crown Oil Environmental, we can analyse and test the contents of the tank using our laboratory which enables us to devise a method and timescale to meet the needs of even the most demanding timing constraints in the shipping industry.
We can offer a range of products and services based on the individual circumstances of the project. Both internal confined space cleaning and non-man entry methods can be achieved using our highly skilled engineers. All of our equipment is regularly updated and H&S equipment will always meet or exceed regulations.
Within the tanks, we can also offer inspections which outline any areas of concern and recommendations.
Bilge cleaning
When a vessel goes through rough seas or develops a leak in the hull, it can cause the bilge of a ship to fill with water. This area must be emptied and cleaned in order to prevent it from becoming too full. If it does fill up, it could potentially sink the ship.
With the use of our state of the art equipment, we can pump out the bilge water and then clean away any bacteria that may have gathered there.
Dockside quick response and support
If you're looking for a fuel uplift and tank cleaning service that can work on a limited time frame, you have definitely come to the right place. Starting with a quick consultation over the phone, you can tell us what services you need and for how long your vessel will be in the dock.
We can then arrange our site visit around a window of time that suits you. With our vast experience in the industry, we can make sure that the job is done in plenty of time before you have to leave the dock.
Fuel Specialists Trusted for over 70 years
Our products and services come fully guaranteed and our staff are trained in each of their respective roles. In fact, our team is the most experienced in the industry.
We are passionate about providing excellent service at all times and our commitment to customer care makes us the perfect choice for your environmental service requirements.

Stay compliant

Save money

Avoid downtime

Reduce risk

Uphold reputation