Frequently asked questions about tank telemetry
Tank monitoring and telemetry systems are designed to give you reliable and accurate information about your fuel supply from anywhere in the UK.
To help you better understand our remote monitoring systems, we've compiled our most frequently asked questions about tank telemetry. From how they work to the benefits that they can provide, this FAQ will give you the information you need to decide if a tank telemetry system is right for your business.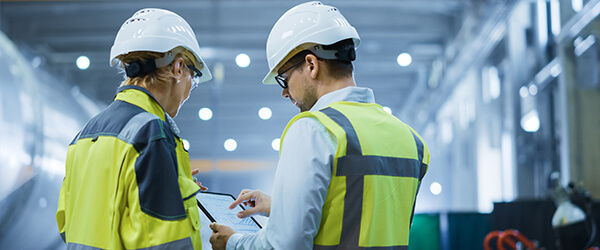 What is tank telemetry?

Tank telemetry is the remote monitoring of your tank levels through the installation of a tank sensor. It provides information such as current levels, tank ullage (remaining space in your tank) and usage trends, as well as sending access and leakage alerts.

Businesses and intensive fuel users rely on tank telemetry as a cost-effective method to streamline fuel resupply processes, most commonly as part of an outsourced fuel management service.
Which industries use tank telemetry?

Tank telemetry is used across a broad range of fuel-reliant industries, including:

Agriculture
Manufacturing
Transport & logistics
Retail
Hospitality
Facilities management

These industries are just a selection of telemetry users, though they all have a common trait: their multi-site operations rely heavily on liquid fuels. Tank telemetry allows these users to centralise their fuel coordination and streamline their logistic operations.
What are the benefits of tank telemetry?

Tank telemetry offers a range of important efficiency savings for comparatively little outlay; chief amongst these benefits is remote 24/7 access to real time fuel level readings.

If you choose Crown Oil Environmental for your tank telemetry installation, you'll also be assigned a dedicated account manager. They will be your one-stop contact for all of your fuel needs and will be able to monitor your fuel levels on your behalf.

The main benefit of tank telemetry is the level of control it gives to your organisation: with a single-view, easy to understand dashboard, you can oversee every important aspect of your fuel levels, usage and other key metrics, minimising the risk of forced downtime whilst optimising your replenishment schedule for maximum cost savings.
How does tank telemetry work?

Advanced sensors are installed into your fuel or oil tank, which provide regular and accurate readings on a range of important metrics. These can be Wi-Fi and SIM-enabled, so your readings will be available no matter how remote your site may be.

This information is then made available to you via a secure online platform which you can access from any web browser.
What does tank telemetry monitor?

The tank sensor keeps track of a number of different important measurements, which can include (based on the sensor chosen):

Fuel/oil levels
Tank ullage
Temperature
Tank access
Consumption data
Usage trends and projected runout date
Low level alerts
Fuel leak alerts

Most tank telemetry systems also have customisable dashboards, which allows you to tailor the information presented to you based on the readings that you want to see.

To find out more about the different fuel monitoring systems offered by Crown Oil Environmental, give our team a call on 0330 123 3399.
Which is the best monitor for oil tanks?

There is no one-size-fits-all when it comes to fuel tank monitoring.

Factors such as the size, shape, material and age of your tank, the amount of fuel stored and the storage lifespan can make some systems more appropriate than others.

Our engineers will always collect information about your fuel tank and discuss your requirements before recommending a tank telemetry system. This helps to ensure that your tank telemetry installation gives you the most relevant information you need to manage your fuel.
Is tank telemetry just for fuel tanks?

Tank telemetry isn't just for fuel tanks – any liquid-holding vessel can be equipped with a telemetry sensor to have its contents monitored.

We have clients and customers who remotely monitor their AdBlue and even lubricant stock using tank telemetry sensors.
Who can use tank telemetry?

Anyone can use tank telemetry for their stored fuel, AdBlue and liquid lubricants.

It's an invaluable tool for business who rely on fuel for their daily operations or backup power. It facilitates remote monitoring of resources across multiple sites, provides alerts for sudden fuel loss which may indicate a leak, and can even predict upcoming fuel usage trends based on previous trends.
Can I fit a tank telemetry sensor myself?

Some tank telemetry systems are easy to install yourself, particularly those designed for domestic fuel monitoring.

However, to ensure that it's fitted both properly and safely, its safer to have it installed by a qualified fuel tank engineer. This will ensure that the installation doesn't compromise your tank or in any way damage your stored fuel.

You should also be aware that any permanent alterations made to your fuel tank may invalidate your manufacturer warranty, and so it's always advised that you check with your OEM and your insurance provider before making any changes.

Our engineers are fully trained, experienced, and aware of all current legislation. With their expert help you can rest assured that your tank sensor will be properly fitted to meet all regulatory standards.
Will tank telemetry work on my device?

Most tank telemetry and monitoring systems have an online dashboard that can be accessed remotely from any web-enabled device.

Provided that your phone, computer or tablet has access to the internet, you should be able to access information about your tank and its contents.
Why install tank telemetry?

Tank telemetry and monitoring systems enable users to streamline their fuel maintenance and replenishment strategies, providing an efficient method to track fuel levels and create accurate usage projections across multiple sites.

Each of these benefits combined leaves you in almost complete control of your fuel supply, minimising the risk of unplanned downtime and protecting your business against fuel loss, uncontrolled spillages and unauthorised fuel use.
Does tank telemetry require an internet connection?

Depending on the location of your site(s) and the available wireless connections, your system may use your pre-existing Wi-Fi network or a SIM card.

Some systems are designed to be compatible with both connections, using your Wi-Fi network as a primary connection source and the SIM card as a backup, should your network be unavailable for any reason.

You will require an internet connection in order to access your fuel monitoring dashboard remotely. Alternatively, if you choose to install tank telemetry as part of our fuel management service, your Account Manager will be able to track all of your key information for you.
Will installing tank telemetry damage my fuel tank?

Installing a tank telemetry sensor is often a permanent alteration to your fuel tank which may invalidate your tank's manufacturer warranty. However, provided that it is fitted by a qualified professional, tank telemetry shouldn't compromise your tank's integrity, function or working lifespan.

All of Crown Oil Environmental's engineers are fully trained, experienced and qualified to fit tank telemetry devices. Call us on 0330 123 3399 to find out more, or to have tank telemetry fitted to your fuel tank.
Tank telemetry systems can be an invaluable tool for responsible businesses who want to take control of their fuel usage. Call us today on 0330 123 3399 to find out more about what tank telemetry can do for you.
Fuel Specialists Trusted for over 70 years
Our products and services come fully guaranteed and our staff are trained in each of their respective roles. In fact, our team is the most experienced in the industry.
We are passionate about providing excellent service at all times and our commitment to customer care makes us the perfect choice for your environmental service requirements.

Stay compliant

Save money

Avoid downtime

Reduce risk

Uphold reputation