Waste Oil Removal and Waste Oil Recycling
If you have oil on your site that you want to dispose of, then we recommend getting in touch with our waste oil removal and recycling experts. If you allow your waste fuel to sit unused in your tank, you risk potentially damaging the surrounding environment which can result in huge clean up costs to rectify.
To find out about our waste oil disposal service, call 0330 123 3399 today to speak to an oil recycling expert. Please note, we uplift a minimum of 1,000 litres.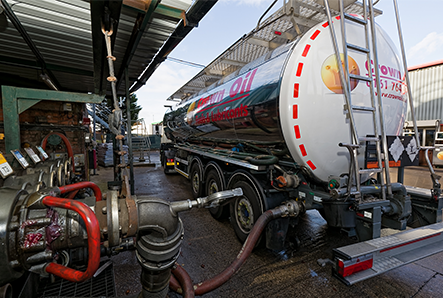 Why Should I Use a Waste Oil Removal Service?
If you have fuel that is too contaminated to be used, then the last thing you should do is leave it in your tank. The longer contaminated oil is left dormant, the more likely it is that it will start to degrade and corrode the tank, eventually causing fuel to leak into the nearby environment. If this happens, it's a serious environmental hazard that needs to be dealt with straight away and can result in prosecution or voided insurance premiums.
Using a waste oil removal service would enable you to avoid disaster striking. All you have to do is get in touch with our specialists today and they will be able to arrange a site visit and dispose of your oil ethically and in an environmentally-friendly manner.
How Does Oil Recycling Work?
It's also possible that you have fuel that's in good condition but it's surplus to your requirements. If this is the case, we are more than happy to recycle that oil back into the market. When you call us, we will come and inspect the condition of the fuel; if it's in good enough condition for oil recycling, we will take it off your hands and give you a payment for it. This is something you should consider if you have a large amount of waste fuel.
Our minimum waste oil collection quantity is 1,000 litres for the collection and disposal of the following fuels:
DERV (road diesel / white diesel)
Red diesel (gas oil / tractor diesel / agricultural diesel)
Industrial heating oil (IHO)
Kerosene (kero / heating oil)
Generator fuel, Industrial fuel & Commercial fuel
Biofuel (biodiesel)
Lubricants
We will also be able to help you dispose of other items and equipment you have on-site, such as:
Oily rags & sludge
Interceptor collections
Gully sucking
Coolants
Cutting oils
Transformer oil
Insulating oil
Why Should You Come to Us for Waste Oil Removal?
Here at Crown Oil Environmental, we've been helping customers with their waste fuel for over 75 years. We are a fully accredited company with a large team of specialists that can deal with any waste oil removal without any issues. Not only that but we also have a large fleet of tankers, which means that we will be able to deal with your waste fuel regardless of how much you have in your tank.
If you'd like to find out more about our waste oil removal and waste oil recycling services, then give us a call on 0330 123 3399. Our experts will be more than happy to give you all the information you need.
Please note: Crown Oil Environmental does not deal with cooking oil or waste engine oil collections.
Fuel Specialists Trusted for over 70 years
Our products and services come fully guaranteed and our staff are trained in each of their respective roles. In fact, our team is the most experienced in the industry.
We are passionate about providing excellent service at all times and our commitment to customer care makes us the perfect choice for your environmental service requirements.

Stay compliant

Save money

Avoid downtime

Reduce risk

Uphold reputation
For help and advice relating to our waste oil collection services,
give our friendly team a call today on 0330 123 3399
Or