Frequently asked questions about non-destructive testing
Fuel users have a responsibility to ensure that they are storing their fuels safely, securely and within regulatory guidelines. Where regular testing and analysis can help control the quality of your stored fuels, non-destructive testing or NDT can help maintain your storage infrastructure.
Non-destructive testing is an essential tool for all responsible fuel users, providing invaluable insights into the state of your fuel storage without damaging or compromising essential tanks, pipework or peripherals.
But what is non-destructive testing, and how does it work? In this FAQ, we've answered all of your most regularly asked questions about NDT, so you can better understand the role it plays in protecting your costly assets.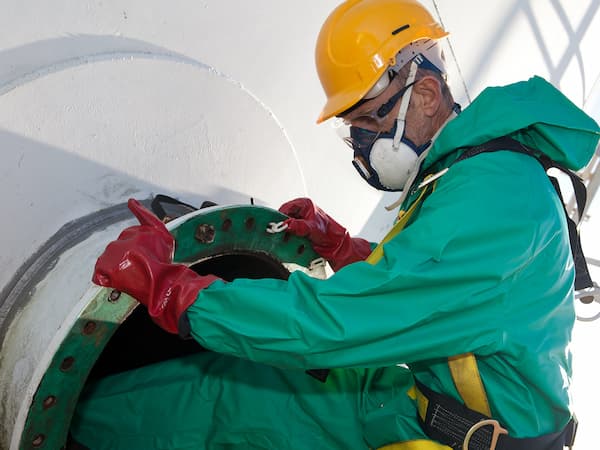 What is NDT?

NDT stands for non-destructive testing, which is the collective name for a group of analysis techniques used to evaluate and appraise the properties of a material without damaging it.

In the field of fuel services, NDT is used to test fuel tanks, pipework and peripherals for indicators of degradation and critical failure such as corrosion, stress, cracking and pitting. Once identified, and if spotted early enough, these issues can be addressed or the fuel tank replaced before spills or leaks occur.
Does NDT have any other names?

Non-destructive testing is known by several names, including non-destructive examination or evaluation (NDE) and non-destructive inspection (NDI). NDT is the most common name for the practice in the UK.
What does NDT test for?

Non-destructive testing checks a variety of parameters and identifies any issues with the material – even those that aren't visible to the naked eye.

The testing methods available can collect data about a material, including:

Its thickness
Its composition
Its density
Its quality; i.e. corrosion, cracks or structural issues

Our engineers can then interpret the data collected and use it to identify any issues and prevent catastrophic accidents, either by repairing the affected area or by replacing the faulty element.
What are the different kinds of NDT?

There are many forms of non-destructive testing in common use today, most of which fall into one of the following categories:

Visual inspection
Ultrasonic testing (UT)
Penetrating radiation
Electromagnetic/eddy current
Liquid penetrant testing
Magnetic-flux leakage (MFL)

Each method has its benefits and drawbacks which make them ideal for the testing of different materials; some work better on non-porous materials such as metals, whereas others are more accurate when used on less dense and more pliable plastics.

Our engineers are qualified and experienced in all applicable forms of NDT, and will be able to advise you on the best testing method for your infrastructure.
How does NDT work?

Each method of NDT uses a different technique to evaluate the subject material.

For example, ultrasonic testing works by passing sound waves through the subject and measuring the reflected response. This allows engineers to identify different characteristics of the material such as its thickness, density and composition, while identifying any flaws, cracks or corrosion.

The most important aspect of NDT is that the material being tested is never damaged by the test; testing that changes or damages the subject is known as destructive testing (DT).
What's the difference between NDT and DT?

Non-destructive testing, as the name suggests, doesn't damage the material being analysed.

Destructive testing involves drilling, scraping or otherwise compromising the subject to gather information about it.
What is NDT used for in the fuel industry?

In the oil, lubricant and liquid fuels industry, NDT is used to assess fuel storage, pipework and peripheral devices for flaws or faults before they have the chance to fail.

This helps to identify corrosion, flaws and cracks before the vessel fails, thereby preventing costly fuel spills, contamination and environmental damage.
Why choose NDT?

Non-destructive testing is the most cost-effective, sustainable and accurate method of checking your fuel infrastructure without damaging or destroying it. This not only ensures that your assets aren't damaged in the process of testing, but also provides peace of mind that the risk of spilled or degraded fuel has been minimised.

Our EEMUA 159 qualified, experienced engineers can identify even microscopic issues with your tanks and pipework and provide workable options that will save you time, money and inconvenience down the line.
What are the advantages of NDT?

NDT is convenient, accurate and sustainable, where other methods of testing don't offer anything like the same benefit levels, which include:

Early identification of stress points and degradation before failure occurs, enabling a longer working lifespan for your assets
Minimises the risk of downtime due to tank and infrastructure failure
Provides trend-based information on tan deterioration, allowing us to predict where the worst issues can be found
Demonstrates compliance to EEMUA 159 and API 653 standards
Gives you peace of mind that your fuel tank is in sound operational condition

Several methods of NDT are also completely non-disruptive, allowing fuel users to continue using their essential infrastructure without interruption.
Which industries use NDT?

While NDT methods are most commonly associated with industrial use, such as investigating weak points in a fuel tank or boiler, NDT is also highly prevalent in medicine.

Procedures such as ultrasounds, x-rays, MRIs, ECGs and CT scans are all examples of NDT as they gather data about the patient without damaging or altering them in any way.

Other applications include:

Art identification and restoration
Forensic science
Industrial maintenance
Scientific testing
Mechanical servicing
Veterinary medicine
Who can perform NDT?

The majority of NDT methods require advanced levels of training and experience in order to correctly gather data about the tested material, and to then interpret that data.

Our NDT engineers are qualified, experienced, and utilise the latest testing technology to achieve accurate results. To find out how we can help protect your home or business against infrastructure failure, call us today on 0330 123 3399.

You can also download our Tank Maintenance Checklist in order to perform a basic visual inspection, which will help you to identify symptoms that indicate your tank has issues that need to be addressed.
What materials does NDT work on?

NDT works on any solid surface or material. In the liquid fuels and oils industry, it's most commonly applied to metal and plastic tanks, pipework and other peripherals.
Would NDT work on my fuel tank?

Yes! The range of advanced NDT methods available mean that your fuel tank – whether it's metal or plastic – can be thoroughly tested for corrosion, defects, cracks and stress points. Our engineers can then provide you with the information you need to make informed decisions about the maintenance of your essential infrastructure.
How can I have my fuel tank NDT tested?

If you need to have your fuel tank tested, simply call our team on 0330 123 3399 to speak to our friendly team.

Please note that if issues have already become apparent or if NDT isn't the best option for your business, our engineers may recommend other courses of action in order to prevent imminent fuel contamination or spillages. The safety of our customers and our teams are of the utmost importance, and we will always do our utmost to protect both you and our engineers.
What happens if NDT discovers a problem?

If our engineers identify an issue that requires your attention, we will provide an easy-to-understand report that contains details about the problem alongside a range of possible fixes.

This may include fuel polishing, fuel uplift, or even tank decommissioning if we find severe structural problems.
How often does my fuel tank need NDT?

The HSE recommends that NDT is carried out every 10 years at least. However, some COMAH sites require NDT every 5 years.
Call us today on 0330 123 3399 to find out more about our NDT service and what it can do for your business.
Fuel Specialists Trusted for over 70 years
Our products and services come fully guaranteed and our staff are trained in each of their respective roles. In fact, our team is the most experienced in the industry.
We are passionate about providing excellent service at all times and our commitment to customer care makes us the perfect choice for your environmental service requirements.

Stay compliant

Save money

Avoid downtime

Reduce risk

Uphold reputation