Why Invest in Industrial Tank Cleaning and How Can it Benefit Your Business?
To help you understand if your fuel system can benefit from industrial tank cleaning, this FAQ includes everything there is to know about the restoration process, including the methodology, what it does and how it will benefit your business.
Neglected industrial fuel tanks can be hazardous and expensive to bring back to compliant standards. Without regular cleaning, fuel contaminants can decrease a tank's integrity over time, leading to equipment breakages, unplanned downtime and an increased likelihood of spills.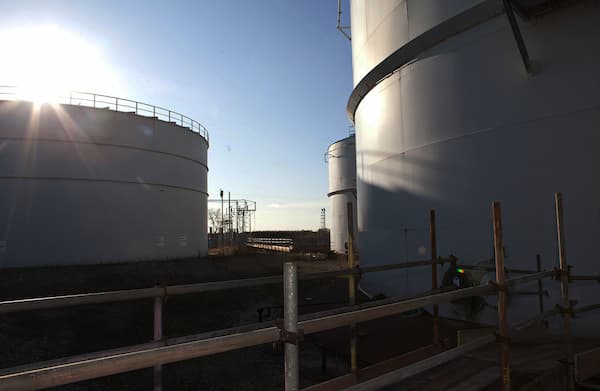 Whether you need industrial tank cleaning as part of a regular proactive maintenance programme, or due to a wider issue, and your tank and its infrastructure need testing, call us today on 0330 123 3399
What is industrial tank cleaning?

Over time, fuel reduces in quality and compromises a tank's integrity. Industrial tank cleaning is key to mitigating a whole host of common problems which can be found with new and old tanks, as well as reducing the risk of oil leaking into the environment.

Industrial tank cleaning is an intrinsic part of many businesses' fuel maintenance plans and can help you to avoid huge fines by leveraging our environmental expertise.
Why is tank cleaning important?

Fuel contamination, sludge build-up and tank corrosion are all common issues that can occur without regular tank cleaning. Sludge can block the tank's outlets, making the vessel extremely dangerous, reducing efficiency and destroying the stored fuel.

Tank cleaning is an integral part of a planned preventative maintenance programme to help prolong the lifespan of the stored contents, the tank itself, as well as to reduce the risk of oil spills and leaks.

There are many reasons for needing an industrial tank clean, including:

Changing a stored product
Your fuel is contaminated
Your tank is damaged
Your tank is being decommissioned
Your fuel or tank is being transported
As part of regular maintenance to extended shelf life
What does industrial tank cleaning involve?

Before a tank can be cleaned, our engineers will visit your site, discuss your requirements and inspect your fuel storage system to determine the most cost-effective solution. This ensures we can diagnose and repair any storage tank faults with minimal disruption.

We will also take samples from the top, middle and bottom of your tank to determine the condition of your fuel system. We can then advise you on the best course of action in a detailed report.

In most cases, we'll uplift your fuel and reimburse you for your contaminated supply before performing the full tank cleaning, then deliver a fresh batch straight into your newly restored tank. This is often the most cost-effective route to take.
What are the different tank cleaning methods?

There are two methods that we use to clean fuel tanks: man-entry and flush cleaning.

Man-entry (in-tank) cleaning

Man-entry cleaning, also known as in-tank cleaning and invasive cleaning, is the most effective method to clean a tank, however, it can only be used on tanks if the man lid is a minimum of 600mm.

This tank clean requires a minimum of three engineers; one inside the tank (2 engineers for large tanks), one at the man lid and another on the floor. This is a legal requirement by the HSE to ensure the safety of all parties involved.

Using a vacuum unit, our team suck out sludge matter and residue from the base and walls of the tank and then clean the surfaces at high pressure. Any waste removed during the tank clean is stored on our tanker, removed from your premises and disposed of at a licensed facility.

Non-man entry (flush) tank cleaning

When man-entry isn't practical, if the tank is under 5,000 litres or if the man lid is too small for man-entry, we can flush the tank to remove sludge deposits safely and efficiently. Our team suck sediment and the contaminated fuel out using clean fuel and blow it, rotating the fuel around the bottom of the tank. This method isn't as effective as man-entry cleaning but our team use their specialism and cutting-edge equipment to clean to their best endeavours.

Water jetting

This method uses high-pressure water jets to remove blockages and residue from both inside the tank and within the bund. This is a safe, quick and consistent method that is more environmentally friendly than other options which use solvents.
Why choose Crown Oil Environmental's tank cleaning service?

Our fast UK-wide response team can reach you within hours
Protect and prolong the life of your tank
Protect your stored liquid fuels from degradation and your business from replacement costs
Our in-house waste uplift service and nationwide oil deliveries streamline the process and avoid having to coordinate multiple parties
Qualified specialists to provide advice on storing and handling oils safely
Market-leading technology for tank cleaning solutions to minimise any leaks and contamination
Engineers have the qualifications to ensure any challenges are addressed, such as confined spaces and hard to reach areas
Access to a wide range of fuels and tank cleaning equipment

We work with thousands of businesses across the UK to deliver our high quality, cost-effective industrial tank cleaning services for underground/above ground diesel and oil tanks, commercial, domestic heating oil tanks and industrial heavy oil tanks.

Whatever the level of industrial tank cleaning you require, we have the tools and experience to deliver a failsafe and cost-effective solution.
What happens if my tank is too corroded to clean?

We will never conduct a tank clean if your tank is too corroded or badly damaged as this would be a waste of time and money. Instead, we could recommend replacing it with a compliant tank to ensure the stored products do not leak into the nearby environment.

Crown Oil supplies a wide range of Deso and Harlequin fuel tanks that are available UK-wide.
Is tank cleaning safe?

Crown Oil Environmental's engineers are highly skilled and experienced, with all the appropriate confined space qualifications to work safely in high-risk environments. They are equipped with all the necessary PPE, gas monitoring and emergency rescue equipment, as well as the required risk assessments and method statements.
Is your tank cleaning service available nationwide?

Crown Oil Environmental carries out industrial tank cleaning services for businesses across the UK. Protect your business and costly assets and book your tank clean today by calling us on 0330 123 3399.
Prevention is better than a cure
Proactivity is key when storing fuel. Our fuel testing services can look for any issues with your fuel before they become an expensive problem, such as application damage or failure.

Stay compliant

Save money

Avoid downtime

Reduce risk

Uphold reputation