Fuel Testing Frequently Asked Questions
Fuel and oil testing and analysis is key to mitigating the costly consequences of diesel fuel contamination. Meeting the environmental needs of your business isn't just responsible, it's essential. If you fail to take care of your fuel supply system, you're exposing your organisation to a range of environmental hazards that threaten to disrupt the service you provide.
We've put together an FAQ of the most commonly asked questions we get about fuel and oil testing and analysis to help you gain a better understanding of what's involved in the process so you can see the importance of quality testing.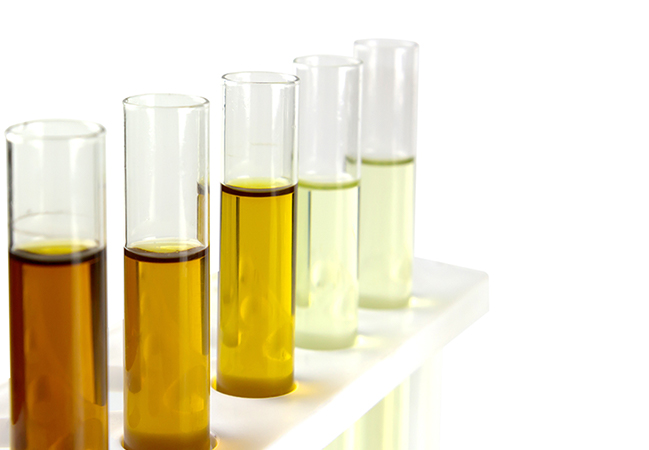 What is oil analysis/testing?

Oil analysis is a diagnostic, planned preventative maintenance (PPM) tool for monitoring and evaluating fuel operation conditions. Testing your oils allows you to see what's happening with your equipment before expensive equipment and machinery failure.
Why do I need to get fuel tested?

Testing your fuel is essential because in 2011 the EN590 fuel regulation was amended which has resulted in an increase in FAME biodiesel content and a decrease in sulphur content to almost zero, exposing fuel to the risk of a decrease in quality and an increase in contaminants.

Contaminants in fuels and oils cause wear and can damage engine components, clogging filters and eventually leading to fuel starvation. Fuel cleanliness is key to keeping your fuel system running efficiently and preventing premature wear of vital components.

Undertaking PPM is essential if you want to ensure smooth-running, reliable operations for years to come. It allows you to maximise asset performance and reliability by identifying minor problems before they become major failures.
How do I know if I have problems with my fuel storage?

Water can be present in the fuel as a bottom layer of 'free' water or as dispersed water within the fuel itself. In either case, water will cause corrosion of the tank's internal surfaces and also provide a 'home' for microbes to live and multiply whilst using the fuel as a food source, particularly when the fuel contains a biodiesel content.

Fuels stored for long periods may also undergo a degree of oxidation, leading to acidic by-products and varnishes which can accelerate tank corrosion and increase particulate contamina­tion.

The first warning the fuel user may have of a problem, particularly with backup fuel systems, is when there is a complete breakdown caused by fuel starvation through blocked injectors and filters or fuel pump failure. At the point of machine failure, this is often too late to rectify.

Diesel engines are one of the costliest pieces of equipment for a business to replace – and are one of the easiest to save. If fuel and oil testing can save just one engine, you've covered the cost of an effective program of testing. Proactivity over reactivity is key.
What clogs fuel filters?

Blocked filters can occur as a result of not having your fuel quality regularly checked. Particle contamination can have many causes:

Water – free or dissolved water can cause filters to swell
Particles – rust, dirt and other particles prevent the safe storage and transferral of fuel
Bio content – water separation technologies may be affected
Asphaltenes – heat during storage causes them to drop out of solution
Microorganisms – bacteria, fungi and mould grow in the presence of water
How do you take a fuel sample?

To accurately assess the health of a fuel storage tank's contents, our engineers will visit your site to take true representative samples from your tank using bespoke sampling equipment systems as specified in the ASTM Standard D4057-06. It's essential that we provide our laboratory with samples which reflect the tank contents; fuel drawn from storage facilities post-filter will give misleading analysis results.

Samples are taken from the top, middle and bottom of the tank. If present, water and particulates will appear in the bottom sample, the middle sample will indicate the degree of settlement of any contaminants and the top sample will provide our analysts with an indication of what may be achievable if the fuel was to be polished.

Contaminants present in storage tanks which receive frequent deliveries will be regularly re-dispersed throughout the fuel, as opposed to tanks which are not in regular use, where contam­inants will be concentrated at the bottom of the tank.

If required, samples of 300mls from each layer will be taken to allow a full suite of tests with sufficient remaining for retention and cataloguing in our laboratories at Bury.
How long does it take to get my fuel test results back?

Once our team of experts have visited your site and collected samples, the analysis process will take around 7-10 days depending on the fuel being sampled and the severity of the contamination.
What are the common types of fuel analysis tests?

Our fuel and oil testing services look at your fuel's chemical composition and provide full spec testing, including:

Density
Viscosity
ISO cleanliness
Microbial contamination level
Sulphur content
FAME content
Water content
Petrol contamination (optional)
What format do I get my results in?

Our in-house chemists will produce a detailed test report within our laboratory, analysing your fuel and making recommendations based on your results that follows a traffic light system.

It will also contain images of your fuel samples and advice on what to do next if your fuel is looking a little worse for wear.
I've been told I have contaminated fuel; can you confirm this?

Yes, absolutely! This will be picked up in our detailed laboratory analysis which we can then feed back to you in a detailed report.
What should I do if there is water in my fuel?

If you're worried about water contamination of your fuel, give us a call. If we identify any water or other contaminants present, we will make recommendations on the next steps to take depending on the severity of the problem. More often than not, we can arrange to come back to your site and polish your fuel which causes almost no disruption to your site whatsoever. This is our most cost-effective remedial action and can be carried out within just a few hours.

If, however, your fuel is heavily contaminated, fuel polishing may not be suitable and a simple fuel uplift and replacement of fresh stock will be needed which can be supplied by our sister company, Crown Oil, at competitive prices.
What does fuel polishing mean?

Fuel polishing is an advanced, mechanical cleaning process that removes harmful sediment through filtration and circulation such as water, sludge and microbial contamination.

Our fuel polishing units are attached to your fuel tank in a parallel circuit, causing no disruption to your ability to access fuel. Layer by layer, every variety of fuel contaminant is then filtered from your supply, including:

Water
Bacteria (diesel bug)
Solid particulates (rust, soot etc.)
Wet foreign matter (sludge)

Our state-of-the-art units can polish up to 25,000-litres of fuel per hour to an industry-best filtration level of 1 micron absolute, restoring your fuel to optimal ISO 4406 standards of cleanliness.
How often do I need to get my fuel tested?

Fuel storage facilities vary widely in size, dimension and location. The frequency of fuel testing depends on the application, the industry and the volume of fuel consumed. The fuel contained may be in regular use or may be stored for extended periods and intended for emergency use when required.

The quality of the stored fuel may be compromised by many issues including condensed atmospheric moisture and/or the ingress of rain water, dust and dirt through poorly-fitting inspection hatches and breathers.

We recommend that you get your fuel tested at least twice a year if it's intended for back-up power; at the start of the winter months when switching to winter grade fuels, and then again when switching back to the summer blend.
What does fuel testing identify?

Engine performance concerns
Fuel filter plugging
Lubricity concerns
Biofuel concerns
Growth of bacteria
Sulphur content
Excessive engine smoking

As a minimum, fuel testing should include fuel cleanliness, quality and contamination.
Can fuel sampling predict engine failure?

Yes, it provides essential information as to the condition of both the fuel and the unit being tested. It can identify wear and contamination problems that if left untreated can severely affect equipment performance and cause engine failure.
My oil tank is plastic, is my fuel safe from contamination?

Plastic tanks don't corrode like steel; however, they still suffer from water intake via condensation which can wreak havoc on your fuel operation. It's just as important to get your fuel analysed, whatever material tank its stored in.
Do you provide lubricating and hydraulic oil analysis?

Yes, we provide transformer fuel analysis which typically involves testing for:

DGA (dissolved gas analysis)
PCB testing
Metal in oil checks
Buchholz gas analysis
Fufuraldehyde analysis
Fibre estimation
What are the benefits of fuel polishing?

Understand your fuel with an easy-to-interpret report
Cost-effective; a quick test now could prevent a future disaster
Receive follow-up advice from experienced fuel experts
Prevention is better than a cure
Making oil analysis part of your predictive maintenance strategy can identify engine killers before they cause a major problem, saving you thousands of pounds a year in repair and replacement costs. Without a reliable fuel analysis program, you may never know when intruders like dirt and water threaten your engine fuel.
To find out more about our fuel testing and analysis service, get in touch today on 0330 123 3399 and protect your fuel operation.
Fuel Specialists Trusted for over 70 years
Our products and services come fully guaranteed and our staff are trained in each of their respective roles. In fact, our team is the most experienced in the industry.
We are passionate about providing excellent service at all times and our commitment to customer care makes us the perfect choice for your environmental service requirements.

Stay compliant

Save money

Avoid downtime

Reduce risk

Uphold reputation