Whether you run a hospital, data centre or any fuel-dependent business, running out of fuel in the event of a power cut can spark catastrophe in your operations and put a significant dent into your revenue. With our emergency fuel contracts, you can rest easy knowing that your fuel supply is our priority and that your emergency fuel will arrive within a pre-agreed timeframe, from a supplier with over 75 years of industry experience.
To help you better understand our priority fuel contracts and how they can benefit your organisation, we've put together our most frequently asked questions that you can refer to.
If you're still unsure of what's involved, you can always give a member of our friendly team a call on 0330 123 3399 and they will be happy to take you through the process in detail.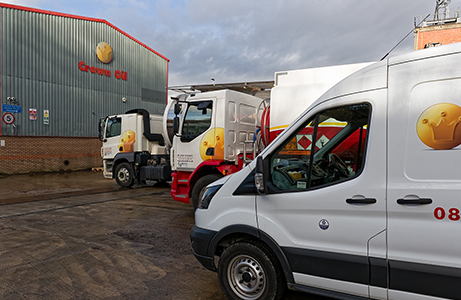 What is an emergency fuel contract?

An 'emergency fuel contract', also known as a 'priority fuel contract', is an agreement that we will deliver fuel in the event of an emergency in a predetermined timeframe which is agreed when you come on board. This means that when you let us know that you're in need of emergency fuel, you can rest easy that your much-needed fuel supply is already on its way. This service is invaluable for fuel-dependent organisations who can't afford the risk of downtime.
How does an emergency fuel contract work?

For an annual fee, we will deliver your emergency fuel within a pre-agreed timeframe and ensure that your fuel supply reaches you before disaster strikes.
What are the benefits of an emergency fuel contract?

When you take out an emergency fuel contract with Crown Oil Environmental you can reap a host of benefits, including:

Your fuel needs will become our priority
Fast delivery of any volume of fuel across the UK
Emergency service available 365 days a year
Contract retention, lower insurance risks and prevents loss of revenue
An array of service level agreement (SLA) options available
One point of contact to look after your fuel needs
Peace of mind to prevent stress or panic during an emergency

Explore more benefits of our priority fuel contracts by speaking to a member of our team today by calling 0330 123 3399.
Why do I need a priority fuel contract?

You need a priority fuel contract to mitigate risk in the event of an emergency. By becoming a priority fuel contract customer, you'll move up the queue and safeguard your business when disaster strikes.
Is your emergency fuel service available all year?

Yes, our emergency fuel service is available 24/7, 365 days a year. Regardless of the weather or scenario, you can count on us to deliver your emergency fuel.
Who would benefit from a priority fuel contract?

If your organisation simply cannot operate without fuel or emergency power then our priority fuel service is essential to safeguard your business and prevent risk. Examples of organisations we've worked with include:

Hospitals and care homes
Data centres and internet hosting companies
Food storage and manufacturing, farms
Pharmaceuticals and lab testing companies
Schools and universities
Public services and government buildings
Any other business that relies on fuel round-the-clock
How quickly will my emergency fuel arrive?

Your fuel will arrive within a pre-agreed timeframe that's determined when you sign up to the contract. This timeframe will vary depending on the volume of fuel needed and your site location(s).
Which fuels can you supply in an emergency?

Our sister company Crown Oil supplies a wide range of emergency fuels, including:

The fuel experts at Crown Oil will be able to discuss your options with you and explain more about our fuel delivery services.
How much does an emergency fuel contract cost?

This will vary depending on your site location(s), how quickly you will need the fuel and the volume of fuel that you would require.
How can organisations monitor their fuel levels more easily?

The easiest way that an organisation can monitor their fuel levels is with a tank telemetry monitoring system. With tank telemetry, your account manager can view the fuel levels of your storage tank remotely in one personalised dashboard and notify you when your fuel levels are running low. In addition to this, we'll give you option of free fuel management from Crown Oil that will streamline your fuel supply process by automating your deliveries.
Can you maintain my backup fuel?

Yes! Prevention is always the best cure when securing your backup fuel supply. With our planned preventative maintenance services we can look after your stored fuel to ensure a seamless transfer to your backup generators in the event that you need it.
How much emergency fuel can you supply?

We can deliver as much emergency fuel as you require across the UK, 365 days a year. All you need to do is speak to our fuel delivery experts over at Crown Oil to discuss your requirements and they'll do the rest.
Fuel Specialists Trusted for over 70 years
Our products and services come fully guaranteed and our staff are trained in each of their respective roles. In fact, our team is the most experienced in the industry.
We are passionate about providing excellent service at all times and our commitment to customer care makes us the perfect choice for your environmental service requirements.

Stay compliant

Save money

Avoid downtime

Reduce risk

Uphold reputation
For help and advice relating to fuel contamination and tank treatment
give our expert team a call today on 0330 123 3399
Or