As a member of the marketing team here at Crown Oil Environmental, I usually spend my days in the office, coming up with engaging things to talk about. So when I was asked to go and spend the day with our team of expert engineers for better insight into a fuel uplift, I couldn't wait to get out on the road.
It was 6am on a cold December morning and Crown Oil's tankers were in the depot filling up with red diesel, kerosene and DERV ready for their deliveries that day across the UK. The Crown Oil Environmental engineers I was to work with were Garry and Shaun, who I found having their morning brew.
That day's job was to uplift just under 2,000 litres of red diesel from a fuel tank which was used as a fuel source to power one of many backup generators at a hospital.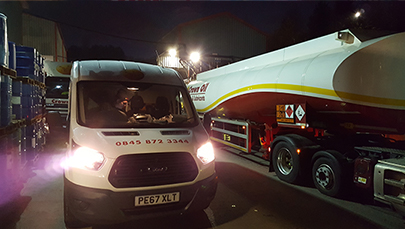 The importance of Crown Oil Environmental's fuel uplifts
Back-up generators at hospitals are literally a matter of life or death. If the mains power was to fail, there needs to be an instant source of alternative power, otherwise lights would go off in operating theatres and critical equipment would shut down.
When the fuel for these back-up generators is called upon, it needs to be in pristine condition to power the generators first time with no complications. If fuel becomes contaminated, its condition degrades over time, which would increase the risk of a backup generator not kicking in.
A few weeks prior to this job, our engineers had visited the hospital to conduct a fuel test. Due to spending a long time in storage, the red diesel had deteriorated significantly, meaning it needed to be removed safely and efficiently which is exactly what Shaun and Garry were onsite to do.
Travelling in convoy down the M62, we managed to beat the traffic and arrived in good time, which gave us time to find an on-site cafe.
Our engineers are passionate about their job and their industry, so whilst others might use the pre-job breakfast to chat about plans for the weekend, last night's TV or what's for tea tonight, Shaun and Garry talked through the best way to achieve the perfect result for the customer.
Having heard that the tank has a particularly difficult access, they were keen to devise a plan so they could tackle their day head-on.
The hospital's Estate and Site Manager met with us and directed us to where we were working for the day. The first job was to secure the area and erect appropriate warnings and safety measures. We have impeccable health and safety record and that is something we want to keep!
Potential challenges and how we overcome them
When we arrived at the site, it was clear that there wasn't much room between the top of the tank where the access point was and the ceiling of the room it was kept in.
Neither Garry or Shaun have 'chimney sweeping' listed as a key skill on their CV, so this was going to be an interesting morning! But all of our engineers receive confined space training so this wasn't an obstacle that was going to prevent the job from being done to anything other than a perfect standard.
Breathe in! Shortly after, we were joined on-site by the tanker, meaning the fuel uplift could begin. This involved 'sucking up' the contaminated fuel from the large tank into our tanker so it could be safely disposed of.
If the original fuel test had established that the red diesel was in good enough condition to be cleaned, we would have been able to carry out a fuel polish.
This is another one of our services that are highly valued by our customers. It can be done in situ, causes zero disruption and is more cost-effective than purchasing a replacement batch.
The time needed for an uplift depends on how much fuel is being removed. In this case, it was just under 2,000 litres, but with the access difficulties, the procedure took a little longer than standard.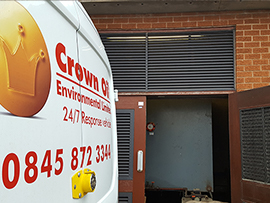 Fuel uplifts by industry experts
One of the major advantages of working with Crown Oil Environmental is that our engineers have the experience, expertise and professionalism to adapt to a fluid situation.
As the uplift neared the end, it became clear that there was a large amount of tank sludge sat on the bottom of the tank. Gary and Shaun expected a small amount, as the fuel test had indicated a presence of unwelcome material and matter. However, there was much more debris in the tank than was first predicted.
Rather than just sticking to the plan, they applied their in-depth knowledge and experience. This tank would require a thorough clean before any fresh fuel could be pumped in.
Our engineers' pride and professionalism mean that they simply wouldn't have allowed new fuel to have been put into that tank without the necessary tank clean taking place beforehand.
Clean fresh fuel would almost instantly become contaminated by the pre-existing tank sludge but as the image above suggests, we always carry equipment to be prepared for almost every eventuality. Normally, our engineers would have been able to put on the required safety and breathing equipment and get into the tank.
However, that was not possible due to the access restrictions, so the clean had to take place from the access point. Garry and Shaun's patience and attention to detail were really put to the test but they excelled once again.
Great service. Great people.
Once complete, we packed up and headed back to the depot. The hospital was now ready for a fresh batch of fuel to arrive to ensure its backup system is in perfect health.
Driving home in convoy, Garry and Shaun returned to the depot knowing they'd done a great job, helping to ensure the smooth running of a hospital in the event of an emergency.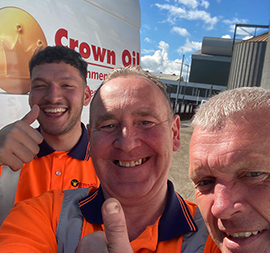 Here at Crown Environmental, it's not just our engineers who take pride in their work, it's everyone in the whole business, from the adviser who takes the initial phone call, right up to senior management.
It's that sense of pride that means our engineers will only leave a site once they know that they have done literally everything they can for that customer, and to the highest possible standard.
In this case, the Estate Manager of the hospital has had a fuel uplift and tank clean, ready for a fresh batch of fuel to arrive to ensure the hospital's back-up energy supply is in perfect health.
You too can benefit from Crown Oil Environmental's range of expert fuel management services. We are efficient, professional and have industry leading knowledge, so you can be sure you have put your trust in the best. Get in touch with our friendly team by calling us on 0330 123 3399 or fill out the online enquiry form.