It's a cliche used by many people to describe their jobs, but as one of Crown Oil Environmental's Fuel Engineers Emma will tell you, it's 100% true, as no two days are ever the same in this industry.
Emma's day started off routinely enough after receiving a request to make the journey to one of our client's premises to help them with a fuel uplift and tank decommission.
However, today would be a little different, as we asked Emma to tell us a little more about the job and share a few photos so that we could join her on her day.
Today's drive would see her drive out through the beautiful North Yorkshire Countryside: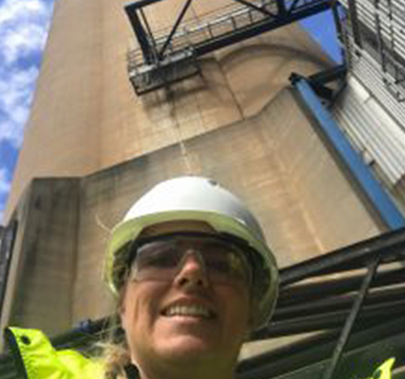 "I really love this part of the country and the weather was perfect to be driving through such stunning countryside on the way to the customer's premises."
The client had contacted Crown Oil Environmental to assist with the removal of an old storage tank from their site, which would also involve the removal of existing fuel from the tank, ready for decommissioning.
Of course, this isn't always the case as Emma told us: "There are a range of reasons why customers require their fuel to be uplifted, from removing old and unusable fuels from site, through to replacing an old storage tank, which was exactly the case today."
After arriving on-site, Emma got to work, to liaise with the client and meet up with their own on-site team to talk through the planned work to ensure everybody was aware of the work that was due to be carried out.
"We always like to go through the job with the main point of contact so we're aware of anything scheduled on that day that could interfere with what we're doing and to ensure of course, that we're not going to cause any problems with our equipment being on-site. The health and safety of our own team, as well as everybody else working on site is our main priority."
In this case, the client was decommissioning an old storage tank on site and replacing it with a larger storage tank, more suitable for their needs. So whilst the fuel was removed from the old tank, Emma also ensured that the fuel was safe to refill in the new storage tank. Since the fuel was quite new and had only just been refilled before Emma's visit, it was deemed safe to reuse without any additional work.
Emma: "You've always got to be sure that the customer's fuel is of a good enough quality to refill their storage tanks. We can clean any fuel that isn't of a high enough quality, but in this case the client was fortunate enough for this not to be required today."
Of course, the client didn't need us to remove the fuel from their site. However, if you are in a similar situation but have any unwanted or unused fuels that you no longer require, we can provide you with a fuel uplift service to remove it safely and efficiently for you. Not only that, but we could also pay you if the fuel is of a high enough quality to re-use.
"After we'd removed the fuel from the old storage tank, the client had a new previously installed larger storage tank on another part of their site a short distance away, so the fuel was transferred to the new location. Once completed, it was time to decommission the customer's old storage tank."
Arguably our two biggest concerns when removing a fuel tank from service are the potential impact on the environment and the safety of those around the area in question.
This takes a great deal of planning and thought, and our engineers call upon their extensive training, as Emma said:
"Luckily, we had a great deal of support from the on-site team and they were really helpful in ensuring we had enough space to carry out our work. It was a busy working site, so it was great to get the help we needed to ensure we could get everything completed safely and on time."
With this being a large scale operation, it is always vital to ensure the safety of everybody on-site, from our own Fuel Engineers such as Emma, through to the on-site team and everybody working on-site. We take health and safety seriously and with such a sophisticated operation, it is important to ensure that everybody is aware of the planned work and that nothing is left to chance.
"It's always really satisfying to sign off the job and leave knowing the client is happy with the work that was carried out. Of course, the drive back through the Yorkshire countryside was an additional bonus. As for tomorrow? Well we could be sent anywhere, from an industrial estate, a farm, the coast and of course, out to North Yorkshire for another drive through countryside. But wherever the job is, we'll be ready to tackle whatever is asked of us."