Meeting the environmental needs of your business isn't just responsible – it's essential. That's why we provide a bespoke oil tank telemetry system to help simplify and improve the whole process.
Fuel has a shelf life, and when stored for long periods of time, it degrades in quality and becomes contaminated with rust, water and sludge. This makes it less effective which can cause significant damage to the tank and equipment in use.
Our engineers have experienced an increase in callouts to fuel contamination and tank corrosion issues, simply because businesses are struggling to find the time to manage their fuel system.
Regular monitoring and analysis are needed to eradicate the risk of fuel failure and the associated impact. In the past, keeping track of fuel and contamination levels required individuals to monitor tanks manually – but things have moved on.
We make fuel analysis easy
We offer a bespoke tank telemetry system to give you more control over your assets, fuel usage and quality, which no longer requires skilled personnel to be onsite.
The telemetry system is suitable for red diesel, derv, kerosene, heating oil, lubricants, biofuels and many other liquids, and can be personalised to your business' exact needs to monitor:
Fuel levels
Tank contents
Average fuel consumption
Fuel contamination
CO2 emissions
& much more!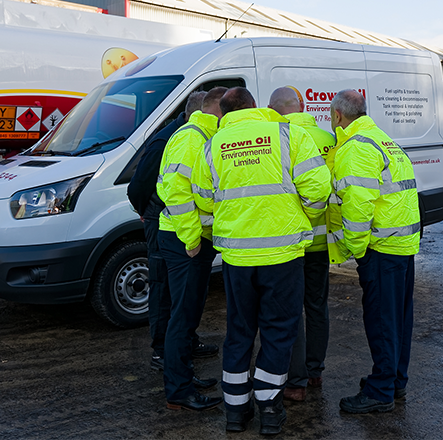 How does our tank telemetry system work?
Our engineers install battery powered sensors inside of your fuel tank and connect them to an easy-to-use dashboard which enables stock levels to be viewed remotely and securely through any web enabled device.
You can decide how frequently you want the sensors to report. If you're a large fuel user, we recommend having daily readings to avoid the disastrous consequences of a halt in operations.
We use battery powered probes instead of ultrasonic equipment because they are less prone to contamination build-up. They can also be fully self-contained for temporary applications or during a power outage to avoid system downtime.
The sensors run recurrent checks on particulate and water content and monitor fuel levels, providing you with the information you need to improve overall fuel quality. If fuel levels suddenly drop or fuel becomes contaminated, this activates alarms which will notify us here at Crown Oil Environmental.
It doesn't matter whether it's a Sunday evening or bank holiday, we hold a backup stock of sensors at our Head Office so we can accommodate an emergency response, to ensure you're never caught out by your fuel.
Full control of your fuel operation
Improved visibility and control over key fuel indicators means that you can optimise stock management and organise deliveries to adhere with your usage across your entire organisation. This ultimately reduces overall admin and logistics costs.
Our highly skilled engineers install and maintain the sensors, which provides improved health and safety in businesses as there's no longer a requirement to manually measure fuel levels yourself – it's one less thing to worry about.
You can log into your system and view your bespoke dashboard at just a few clicks of a button. An app is also being developed to improve accessibility even more.
If businesses fail to take control of their fuel system, you are exposing your organisation to a vast number of environmental hazards which will ultimately impinge on the service provided.
Get in touch today on 0330 123 3399 to find out more about our tank telemetry services.