The clock is ticking. The 2020 IMO sulphur regulations are on the horizon, so you need to ensure your vessel is in ship shape. But what does this mean for the industry?
From 1 January 2020, the International Maritime Organisation (IMO) is banning ships from using fuels with a sulphur content if no more than 0.5%, compared with the current limit of 3.5%. The new regulations may not float your boat, but they're the latest wave of measures being introduced to create huge environmental and health benefits. The tighter guidelines are said to prevent over 570,000+ premature deaths between 2020 and 2025 in a study cited by the IMO.
The Emission Control Areas (ECAs) will remain at the 2015 standard of 0.1% sulphur content.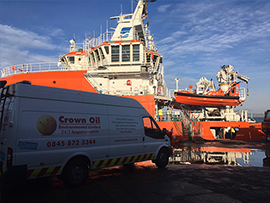 What must ships do to meet the new IMO sulphur regulations?
Use low sulphur and alternative fuels
All aboard a smooth sail to success… Simply switching to low burning fuels such as marine gas oil (MGO) or ultra-low sulphur fuel oil (ULSFO) is the most straightforward route to take.
Unless your ship has an alternative arrangement – like a scrubber – any high sulphur fuel oil that is not used up before 1 January 2020 must be debunkered. We recommend that you have a minimum quantity of 0.5% fuel onboard by mid-December 2019.
Invest in fuel system modifications and tank cleaning
When switching to the new low sulphur fuels you must consider new fuel testing requirements. You must ensure that your supplier can uplift your old fuel, clean your fuel tank and replace it with ULSFO.
Does the sulphur limit apply only to ships on international voyages?
The sulphur oxides regulation (MARPOL Annex VI, regulation 14) applies to all ships – from international voyages between two or more countries to domestic voyages, solely within the waters of a Party in the MARPOL Annex.
Why is low sulphur fuel needed?
Heavy fuel oil is the predominant type of "bunker" oil used by ships that is produced as a residue through the distillation of crude oil. Crude oil contains sulphur – and following combustion in engines, sulphur ends up in ship emissions. These sulphur oxides are harmful to human health and cause respiratory problems and lung disease.
Atmospherically, sulphur oxides cause acid rain which harms forests, crops and aquatic species, and contribute to the acidification of our oceans. Therefore, limiting these harmful emissions will greatly improve air quality and protect our environment.
Will there be enough low sulphur fuel for the world's ships?
New blends of fuel oil for ships will be developed to meet the new 0.5% requirements, including major oil refiners Royal Dutch Shell and BP. Gas oil with a low sulphur content can be blended with heavy fuel oil to reduce the sulphur content.
These new blends, however, are likely to cost more initially than those used by most ships today. Another alternative is to switch to a different fuel completely, such as Crown HVO Fuel, which is sulphur and FAME-free, or use scrubbers as mentioned above.
Failure to comply will result in fines or vessels being detained, which could affect vital requirements such as insurance coverage. The enforcement will be policed by flat and port states, not the IMO.
Keep your ship afloat with Crown Oil Environmental
We offer industry-leading fuel testing at our in-house laboratory to make sure that all fuel meets the new spec. If it doesn't – we can:
Crown Oil and Crown Oil Environmental are prepared and can help you better prepare for the new regulation too. We've developed a range of fuel products for the marine industry, including marine gas oil, low sulphur fuel oil and Crown HVO fuel to ensure your ship is prepared and compliant.
What's more, our vast range of industrial lubricants and marine specific lubricants are blended specifically to protect engines burning marine fuels from wear and tear and corrosion.
The clock is ticking… get in touch with our fuel experts at Crown Oil Environmental today on 0330 123 3399 to get prepared for the new IMO rules.