Every day is different here at Crown Environmental. On Monday, our engineers could have a fuel polishing job at a school in Scotland and on Tuesday, a huge uplift job on a large ferry at a busy port.
That was exactly the case a few weeks ago for our team here at Crown Environmental.
The problem:
A fuel delivery company (not us!) had accidentally put 10,000 litres of marine gas oil into the water supply tank. As you can imagine, this was a disaster, not only as there was a huge amount of fuel in the wrong tank, but water and oil mixed together cause significant fuel contamination. If left untreated, it can cause big engine problems.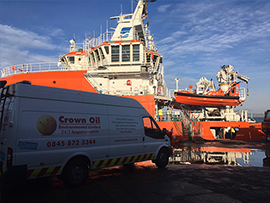 The Crown Environmental solution
After a quick consultation over the phone, we were able to come up with a plan of action. The first step was to get our team to the site straight away. Because we have our own engineers, we were able to offer a rapid response and uplift the fuel on the very same day.
Since our sister company Crown Oil is a UK leading supplier of fuels and lubricants, we were also able to deliver 10,000 litres of fresh marine gas oil which was made possible by our nationwide fuel delivery service.
From a panicked call at 08:00 in the morning about a broken down vessel, to completing the job and watching the ship sail out of port by lunchtime, we were really pleased and proud to be able to help this customer.
How did we do it?
The first step was to uplift the contaminated fuel from the water tank into our tankers. Once complete, we were then able to put the clean fuel into the fuel tank of the vessel.
Our engineers then took the contaminated fuel away via our waste oil collection and disposal service to be tested and analysed to determine whether it can be recycled or disposed of.
Crown Environmental can help you too
If you find yourself in a miss fuel situation, you have a leaking fuel tank or you simply have fuel on site you no longer need, it doesn't have to be a disaster. We have an ocean of fuel uplift experience, as well as many other environmental services on offer. Whilst there is a minimum volume of 2,000 litres that we will uplift, no job is too big for us here at Crown Environmental.
Other reasons you might need your marine fuel uplifting
If your vessel has recently had a rough journey to the dock, there is a good chance that water has got through the vent pipes. This can cause your fuel to become contaminated and develop fuel bugs. Fuel contamination can result in engine problems which can hinder the vessel's journey back to safety.
If you've got limited time in the dock, we can remove the contaminated fuel for you and replace it with a new supply. Or if time is not pressing, we can clean it until it's contaminant-free to keep your boat afloat.
Further services we offer include
Bilge cleaning – rough seas can cause a leak in the hull which can result in water in the bilge. This needs to be cleaned to stop it becoming full as this could sink the ship
Ballast tanks & marine tank cleaning – both internal confined space cleaning and non-man entry methods can be used
Dockside quick response and support – starting with a consultation, we can determine what services you need to ensure the work is done in plenty of time before you leave the dock.
If you would like to learn more about our fuel uplift services or have any other questions you'd like answers to. Our fuel experts are here to help, simply call us today on 0330 123 3399.